As I walked toward a digital wall monitor I noticed the image changing to a jacket similar to the one I was wearing and with it a shirt and pair of pants with text indicating "great match."  More surprising was the next statement, indicating that my jacket would provide me an instant 25% discount on either of the other items-today only. I didn't need the new shirt or pants, and next headed to the grocery store to pick up a few things. At the grocery, I loaded up my cart with 12 items and proceeded to the checkout. As I passed the checkout scanner it instantly indicated that my 12 items came to $22.10. I then swiped my credit card, and was instantly notified that since I had previously purchased a couple of similar items and was therefore receiving a rebate of one dollar this time. I moved on without removing my items from the cart and the checkout took a matter of seconds.
When I got home and took my goods into the kitchen to put away, I noticed my kitchen monitor had registered and inventoried them with the other items still in the kitchen. Since my home system is online, I also received a notification on my kitchen monitor that I had left my jacket in the store. I thought great, "you ingenious RFID devices can do all that, so why didn't you notify me on my cell before I got all the way home!"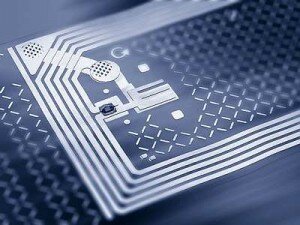 This is all facetious, but it does represent the capabilities that are possible today when using RFID integrated with other applications, including marketing technologies and marketing analytics. RFID, or Radio-Frequency Identification is the use of an object (typically referred to as an RFID tag) applied to or incorporated into a product for the purpose of identification and tracking using radio waves. These tags can be read from several meters away, out of the line of sight of the reader, and the reader can be linked via networks and integrated with applications.
Although the national economy has yet to show any significant glimmers of recovery,  RFID appears to be headed in a direction that will bring about new digital marketing dynamics. Significant to this is that many RFID suppliers appear to be trending toward growth in sales.  That demand capacity typically creates manufacturing cost savings, which in turn ratchets up the interest of producers to seize market share, which in turn drives down the cost of the device. So as RFID prices go down, the performance capabilities will typically go up. And with Walmart announcing it has started rolling out RFID tags with its apparel in 3,750 stores, it is possible that creative new digital marketing scenarios can't be far behind.
As RFID is primed and becomes more mainstream, it will introduce another dynamic for marketing as well as challenges to integrate offline and online data with real-time analysis delivered via applications that affect the customer experience.
About the Author:
Mike Fuqua is the Chief Technology Officer at SIGMA Marketing Group, a marketing technology and strategy agency. Connect with Mike on  or follow him on .