As a Social Media marketer with SIGMA Marketing Group, I am still amazed when I meet business savvy folks who have not yet adopted social media usage in any way, shape or form.  There are varying degrees of usage and unique formulas for different business types and vertical markets, but I don't care who you are… Social Media is here to stay, and will continue to evolve rapidly.  I recently wrote an article on social media usage by industry, which focused primarily on B2B Social Media, but it provided some interesting insights about which industries have adopted social.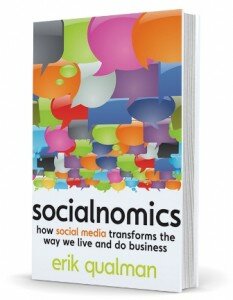 I also recently read the book Socialnomics, by Erik Qualman, which opened my eyes even further to the need to understand the social channels that are relevant to your own industry and how to best leverage them.  The book provides strong thought leadership on the importance of your social networks.  In just a few short years, the social media landscape has entirely changed.  We now have access to robust tools for social listening and sentiment analysis.  A smart business, whether it is a small business or enterprise-level organization – is aware of what's going on in their industry in the social space.    The video below is one in a series titled , and its statistics are pulled directly from the book Socialnomics.  Fasten your seat belt and enjoy the ride:
"We don't have a choice on whether we do social media, the question is how well we do it."  Erik Qualman
I strongly encourage any business-minded person to pick up a copy of this book and read it.  It is full of scenarios, both good and bad, of how social media can impact your business.  Even the smallest niche business can use Social Media to build and nurture relationships, which in the long run can help grow your business.  Social Media is not just using Twitter or posting updates on Facebook.  It's truly understanding how your brand, product or industry can provide value to its audience.  Some of the basic aspects might include:
Integrating Social Media with your email marketing campaigns: Allowing your email subscribers to share your content can take a campaign with a limited email subscriber base viral, allowing not only your product or service offering more visibility, but potentially increasing your email subscriber base.
Listening to the dialog in the social space about your brand, product or industry. Who is out there already doing what you should be doing?  Who is talking about your products, and what are they saying?  What is the sentiment about your brand or industry?  By taking some time to listen before jumping in, you can begin to piece together a strategy of how to leverage Social Media. You never know… you may beat your competitors to it if you start right now!
Make your campaigns truly multi-channel by adding social elements. Still doing direct mail or email marketing campaigns only?  There's nothing wrong with that.  But why not add a layer of Social Media touch-points to that same campaign to allow it to go viral beyond your mailing list?  By leveraging social networking sites with the same campaign offering, you can create additional components for your campaign that make it viral in nature.
Understand what you can learn from Social Media. Once you start adding social to your marketing strategy, you need to understand how it's performing and where you need to adjust or improve your efforts.  Combining social listening with your web analytics can provide valuable insights about where your customer relationships and brand evangelists are coming from.  To take that a step further, you should work to integrate your online customer data with your offline customer data.  This will allow you to better understand what your customers look like, where they are most like to interact with you, and what drives their buying decisions.
Your customers are evolving every day.  They no longer go searching for products and services-those products and services find them.  Consumers are armed with information at their fingertips, and want to make purchases and buying decisions based on trust and a relationship that provides value to them in the long run.  In this article, I've barely scratched the surface on how and why Social Media has transformed from a "bandwagon" to a "supersonic jet," and how it will continue to change the way to communicate with our customers and prospects.
Have questions about Social Media and Web Analytics can provide valuable marketing insights to your organization? today to learn more.
About the Author:
Wendy Boyce is the Social Media & Marketing Manager at SIGMA Marketing Group, an integrated marketing analytics firm.  Connect with Wendy on , Facebook or .
Contact SIGMA today to learn more about how we can help you unlock those valuable consumer insights, by integrating your online and offline customer data.