In the old days, say 18 months ago, I understood the concept of a Persona to be an archetypal web visitor to a particular site.  Web designers and strategists needed to wrap their brain around the users of their websites and they imagined the characteristics of a Persona – the motivations, objectives and typical visitor behavior of the person they were designing the website for.  A Persona was a single, focused imaginary user, usually with a cheerful name like Alice or Robert to make them seem more like someone you might know.    I always thought that the major flaw in this approach was oversimplification.  There isn't a single user or customer or prospect, there are many different segments, which you can easily forget if you focus on just one.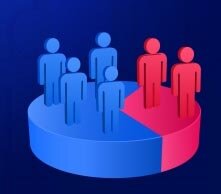 The digital concept of Persona is catching up with the database marketer's idea of Segmentation.  The web experience has become richer, and web strategists have embraced the idea of many Personas and have tooled the experience to deliver choices, and personalization and different pathways to support different groups of visitors.  Marketers commonly talk about Personas in the plural, and this is a great thing for improved relevance for consumers.  And there's no doubt that the word Persona has become more of a digital buzzword — and  anything  digital is more buzzworthy than traditional marketing concepts like "segments."  So, the word Persona has begun to be used almost interchangeably for Segment.
I have to argue with this word swap.  We describe consumer segments as highly complex profiles of online and offline behavior; key performance indicators, such as lifetime value or profitability potential; likelihood to buy or attrite; channel and engagement preferences. We try to get as close to a 360-degree view of these customer and prospect groups as possible, and we dig and dig across an organization to find the data to support these robust portraits.  "Persona" seems much more limited than our concept of customer segment – limited to a single channel, the Web – versus a multichannel view which is really more actionable across the organization.
Of course, the meaning of buzzwords morphs over time! If marketers want to deliver robust multichannel experiences across media and sales channels, then Personas have to grow up to support both online and offline customer relationship realities.  If "Persona" means the Whole Customer relationship, then I'm happy to drop the word "Segment" for good.
About the Author:
Martha Bush is SVP of Strategy & Solutions at SIGMA Marketing Group.  Follow Martha on or connect with her on .
Read more articles from Fifth Gear on Customer Segmentation.